This Page Has Been Locked!

This page has been locked from editing because of Vandalism. If you want to add a important info, contact a Staff Member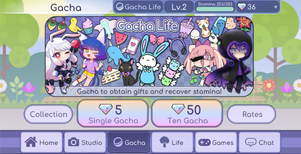 Gacha is one of the features of Gacha Life and many other Gacha games. Gacha are surprise gifts purchased with a currency called Gems. You can give Gacha to NPCs as gifts. Gacha a feature where you get items that you can gift to an NPC or get battle units or materials as known in other Gacha games such as Gacha Club for an example. You can obtain it with gems, there are two choices the first choice you get one Gacha gift for only 10 gems, however, the second choice you can get 10 Gacha for only 50 gems. You can also receive stamina within obtaining a gift. You can view your collection and you can check the rates.
Type
Regular gift
Favorite gift
1-star
10 points
20 points
2-star
20 points
40 points
3-star
30 points
60 points
4-star
40 points
80 points
5-star
50 points
100 points
6-star
500 points
Rates
Old: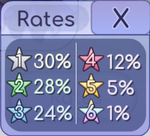 New: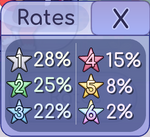 Trivia
If you purchase Gacha with Gems, you will also receive stamina so you can talk more with NPCs in Gacha Life.
You can get Gems on Life Mode by leveling up your Friendship Status with NPCs (found while walking around the City, the Beach, etc.)
Gacha is a popular thing if you want to kill time in Japan. It is also known as Gachapon.
This is a feature is on many Gacha games such as, Gacha Club and Gachaverse.